GTA San Andreas PC Game Full Version
GTA San Andreas PC Game is an open world game, and it will be providing a huge amount of varieties to the new and old players of the GTA series like GTA 3  and GTA Vice City. There a lot of new buildings, cityscapes, vehicles and now the players have more control in the game. Moreover, the character Carl Johnson has been given the real classic look. Like all the previous games of Rockstar GTA series, GTA San Andreas Game is also generous when it comes to experience and originality and it is the greatest and latest version of Grand Theft Auto series. It is now bigger, worse and more ass burning than ever. Say Hi! To the GTA San Andreas game.
The notable thing in this game of GTA series is that San Andreas is not a city but a State. A huge one, though. It is made up of 3 cities and is based in California. Each city is almost the size of whole Vice City. Which means that map of this game is 3 times bigger than that of the previous game of GTA series. There is also a complete desert in between the cities. There are different missions of each town and of course there are rampages and stunts as they were present in previous versions.
There has been an addition of an enormous, massive mountain into the newly produced map. All the missing rocks or hills in GTA Vice City have been rolled up to make this mountain. It will take just about a minute time to reach the top of the mountain if you are using a helicopter. We are sure you will enjoy riding this mountain downwards in GTA San Andreas. If you want an even more advanced game than this one, then you can check out GTA IV and GTA V.
Some may think that the Rockstar has emphasized on land and may have skipped the small details but it is to be kept in mind that small stuff has been properly taken care of. In GTA Vice City there was a new introduction of attractive interiors that were inspiring and jaw dropping. This time the same is promised by Rockstar. San Andreas is more diverse than Vice City or GTA 3 when it comes to the environment. Now in San Andreas, you will not experience any large empty slots of land as it was in GTA 3 and GTA Vice City.
Grab this deal and more at unbeatable prices with doorstep delivery.
Key Features
System Requirements for San Andreas:
MINIMUM:
Windows XP or Windows 2000 operating system.
1 Ghz Pentium 3 processor or Athlon AMD Processor.
256 MB RAM memory at least.
64 MB Video Graphic Card Geforce 3 or higher.
At least 3.6 GB free Hard Disk space required.
Installation of software like SecuROM or Direct X.
The terms and services must be checked before purchasing the product.
Recommended Requirements:
Intel Pentium IV or Athlon AMD XP Processor.
384 MB of RAM or even more for a better.
128 MB or even better graphic memory card for the best Recommended card is Geforce 6.
For a complete installation of game 7, GB hard disc drive memory required.
A sound card that is compatible with Direct X9 is also required. Recommended card is Sound Blaster Audigy 2.
Requirements for Macintosh system:
Macintosh operating system (Snow Leopard 10.6) or even higher.
Core 2 Duo Intel processor or greater than Core 2 Duo.
1 Giga Bytes of RAM.
At least 5.2 Giga Bytes of free space on hard disk.
NVidia 7300 GT video graphic card or higher for better performance.
Other Requirements: Installation of software like SecuROM or Direct X.
What's in the box
-A DVD disc with fully installed GTA San Andreas PC Game-user manual on installation
Specifications
SKU

: RO486EL0RBGHONAFAMZ

Color

: White and grey

Main Material

: plastic

Model

: lastest pc edition

Product Line

: PC GAME

Size (L x W x H cm)

: 13*18.3

Weight (kg)

: 0.58
Product Reviews (0)
This product has no reviews yet.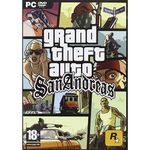 GTA San Andreas PC Game Full Version